Hear The Children's Cry is thankful for the support we have received from the following companies:
MISSING CHILDREN'S SUPPORT PROGRAMME
The multi-faceted Missing Children's Support Programme was launched by Hear The Children's Cry in April 2009, with vital, ongoing support from Jamaica Yellow Pages, now Yello Media Group. Between 2010 and 2020, approximately 15,000 children were reported missing in Jamaica. This is a problem that continues to create tremendous pain and trauma for children, as well as serious social concerns and ramifications for families, communities, and the wider society.
The Missing Children's Support Programme
 is Jamaica's only non-government
entity providing critical support services for missing children and their families. This includes:
Child and family counseling
Parenting support/education
Runaway Prevention Programme, including home visits
School Re-integration Programme
Networking with public and private child welfare partners
Ongoing liaison with the security forces to access statistics on missing children, analyzing and publishing these.
Advocacy and Public Awareness
Hear The Children's Cry publishes photos (where available) and details about missing children on a daily basis, and keeps the public informed with regular press releases, media interviews and postings on social media, as well as calling press conferences on national issues when necessary. It also publicizes important related trends, provides in-depth analyses, a focus on related issues and puts a human face on the statistics about missing children.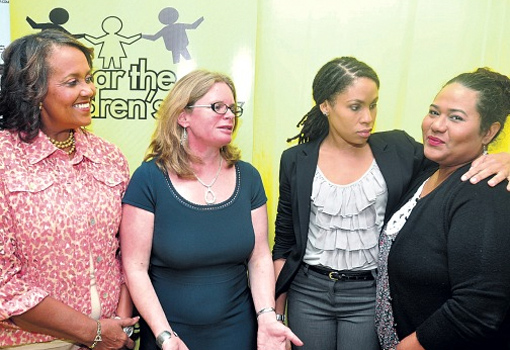 Missing Jamaican children listed on global network
When our Missing Children's Support Programme was granted membership to the Global Missing Children's Network (GMCN) in 2015, this increased the possibility of more missing Jamaican children being found. Photographs, where available, and data for every child reported missing in Jamaica are posted to the GMCN's international website interface and database — a potentially life-saving move for missing children who may have been trafficked to other countries. This was announced at a Kingston press conference hosted by Yello Media Group, main supporter of our Missing Children's Support Programme, during Child Month (May) 2015. The event also served as the launch for the Hear The Children's Cry website, designed and still hosted by Yello. Photo shows, from left, Hear The Children's Cry Founder  Betty Ann Blaine; Caroline Humer, senior executive with the International Centre for Missing and Exploited Children; Ayanna Kirton, Marketing Manager, and Andrea Harrisingh, then Digital Provisioning Supervisor,  of Yello Media Group. Andrea shared that she was especially happy to have been charged with setting up the new website, as she had been abducted at 18 months old, and thankfully, returned to her family.