Hear The Children's Cry: A Response To The Heartbreaking Complex Of Crises Affecting Jamaican Children
Hear The Children's Cry is Jamaica's most vocal advocacy and support group, and is committed to the wellbeing and welfare of Jamaica's children. The organization was launched in 2002, in direct response to a heartbreaking and alarming complex of crises which continue to face Jamaican children. Thousands of Jamaican youngsters continue to be the victims of violent crimes, to be traumatized by witnessing murder and other violent acts in their homes and communities.
They continue to be abused in many homes, and to suffer from neglect, abandonment, homelessness and exploitation by criminals, from abuse by uncaring and/or uninformed care givers, and from injustices resulting from inadequate and often inept essential national services.
The particular atrocity which precipitated the establishment of Hear The Children's Cry by Founder child advocate Betty Ann Blaine and her associates was the shooting up of a children's birthday party in the violence prone community of Kingston's Greenwich Town. The innocent victims of hostilities between rival gangs, the young children were sprayed with bullets at what should have been a joyful occasion. One child was killed and a number were wounded, one very seriously.
Since then, Jamaican children have continued to face an alarming level of atrocities, and concerned citizens continue to be shocked at the vicious crimes so many of them are subjected to. According to the Planning Institute of Jamaica, young people are prime murder targets, with more than 1,500 children and teenagers killed during the 10 year period 2001-2011, and another 1,600 shot and wounded. (to be updated)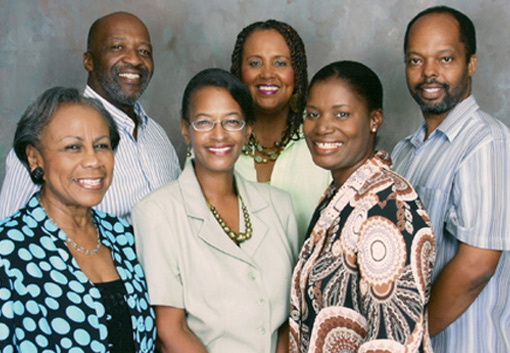 OUR FOUNDING LEADERSHIP TEAM: The six professionals who came together to launch Hear The Children's Cry in 2002. They are, from left: Celta Kirkland, Mike Watson, Alice Watson, Founder Betty Ann Blaine, Acting Executive Director Maxine Taylor Cooper and Nigel Cooper.
School Safety and Parenting Education
Promoting critical safety tips for children and families, and vital advice for parents and guardians has been a high priority for Hear The Children's Cry since the establishment of our Missing Children's Support Programme in 2009. Working on our own and partnering with other social welfare organizations, we take these workshops to schools, churches and community organizations in all of Jamaica's 14 parishes. Parent Teacher Associations and Guidance Counsellors have offered invaluable assistance in scheduling the workshops, and we are grateful for their help, as we continue this important effort to keep our children safe and secure. We have sensitized an estimated 325,000 children in 92 schools, and 35,000 parents through our Islandwide Safety Workshops, and reached many more through Child Safety and Positive Parenting tips shared through our Social Media outreaches.
Runaway Prevention Programme
In a situation where most missing children in Jamaica are runaways, Hear The Children's Cry launched the Runaway Prevention Programme in May 2018, using the theme, "Let's Talk: Don't Walk". With support from Yello Media Group, sponsors of our Missing Children's Support Programme, easy to read flyers were printed with life-saving advice for parents and children. These promote better communication, enhanced parent-child relations, and practical advice during times of crises. In addition to child safety, creating happier homes is an important objective.
Having partnered with the Ministry of Education, Youth and Information, members of the Diplomatic Corps, the National Parent Teachers Association of Jamaica, student leaders, and other stakeholders in the Child Welfare Sector, we continue to promote and distribute the flyers and related information, both physically and virtually.
Missing Children's Family & Community Social Work Programme
Support from Supreme Ventures Limited enabled Hear The Children's Cry to launch the Missing Children's Family & Community Social Work Programme, designed to alleviate the problem of runaways and missing and exploited children. The support allowed us to expand our work under the Missing Children's Support Programme, from telephone calls to families, to a much needed, more comprehensive programme. Initial priority focus was placed on families with habitual runaways, whose safety and interrupted education is of particular concern.
The Programme is designed to aid in addressing the vast investigational gap that exists regarding missing children in Jamaica, as well as to strengthen the areas of child protection and prevention. The Programme ensures that home and school visits are undertaken; that critical support services are provided for parents, and that the necessary action is taken for the rehabilitation and re-assimilation of our country's formerly missing children into the educational and social fabric of the society.
The programme was launched in four of Jamaica's 14 parishes – Kingston, St. Andrew, St. Catherine and St. Thomas.
National Youth Help Recycling Project (2010 – 2011)
Seed funding from the Bank of Nova Scotia Jamaica's 'Go Green Initiative' facilitated the multi-faceted National Youth Help Recycling Project. Objectives included:
Employment creation, educational and personal development for unattached young males from inner-city communities
Protecting the environment by preventing potentially harmful materials to enter landfills
Creating a sustainable recycling operation which could be replicated nationally and regionally, and could produce income for Hear The Children's Cry.
The project, which involved a promising paper recycling operation, provided valuable training and employment for 15 inner city youth. An associated component facilitated an environmental education project, also focusing on environmental awareness and recycling, and a related competition among high schools.
Prevent A Dropout Pilot Programme – 2006 – 2007
The innovative Prevent A Dropout Programme, endorsed by the Ministry of Education and sponsored by RBTT Bank, was successfully designed and piloted by Hear The Children's Cry. Implemented at Swallowfield Primary and Junior High School from 2006 to 2007, it targeted 60 grade 8 and 9 students whom the school deemed highly likely to drop out of school, given their home life and school performance.
They were given remedial education, career guidance, life-skills training, individual mentoring by RBTT staffers, and with their families, parenting and family life education. Some required counseling, some could not read. Students were also given help with bus fares and food.
The results were considered a phenomenal success by the school, Against all odds, twenty-nine of the first year's group of 30 and. all 30 of the second year's group graduated.